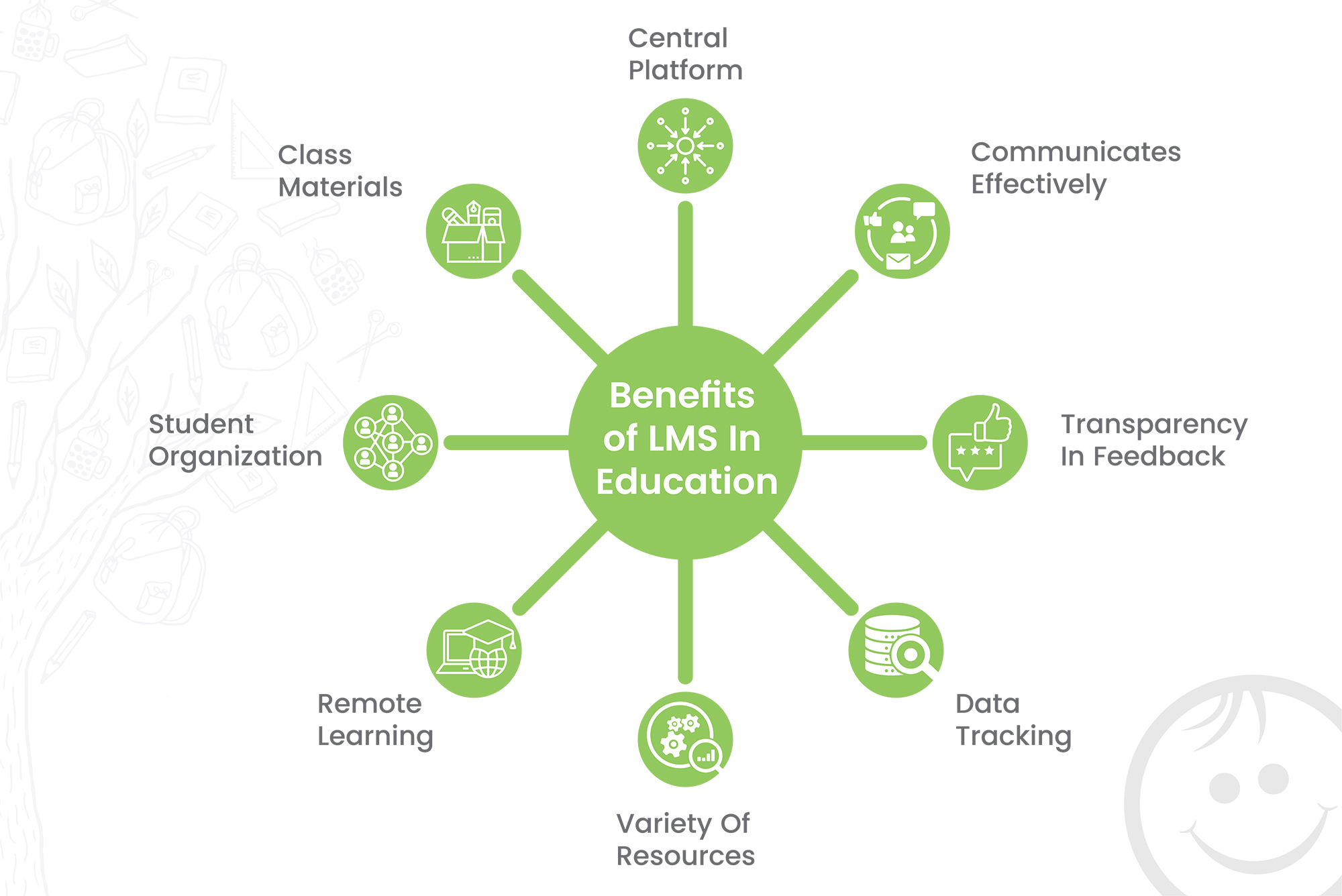 Learning Management Systems (LMS) is a software program that enables schools to manage the digital learning process in all parts. The educators can create and administer lessons, assign tests and graduate in a centralized online school. It also serves as an open channel of communication between teachers, students, parents, and staff.
An LMS offers robust features that optimize the whole process of learning. Anyone who is directly or indirectly involved in these processes is already a potential LMS user. The benefits of learning management systems in education will be explored in this article.
Benefits Of Learning Management Systems In Education
Below are the benefits of using an LMS in a school environment.
Basically, It Is A Central Platform
The main benefit of having LMS at school is that every learning material can be collected in one place. You may now access the hard drives from a single platform instead of holding separate records and learning resources for pupils and other vital information.
It decreases the risk that essential data will be lost and makes it natural to connect online. Mainly, the cloud solution makes it possible to use any device with an Internet connection to view information from anywhere.
Distribute Class Materials Efficiently
With the LMS, all students can share classroom materials, whether in a classroom or distance. The course, with objectives, activities, and resources included, will be available. With the software applications, you can even share textbooks online. Instead of carrying a massive book from and to school every day, you could integrate the most recent topic into the class page.
Communicates effectively
The LMS solution also ensures a continuous flow of communication between educators and parents. It serves as a platform for teachers to communicate important announcements to parents and share their children's progress with them.
Teachers, for example, can broadcast emergency meetings to parents or directly share assignments with them. It ensures that parents can keep track of their children's performance and activities.
Improves Student Organization
An LMS automatically populates the students' schedule when teachers upload assessments, due dates, required tasks, and criteria. As a result, students can see all of their week, month, and term tasks, which helps them plan their homework and assignment time. Include extracurricular and personal commitments as well. The schedule can also be shared with parents or guardians.
A Variety Of Resources
Resources are available in a multitude of formats and can be spread. This permits teachers to gather multiple materials to comprehend the context accordingly in a topic or skill. The class pages provide students easy access to videos and external sites, and aesthetically attractive learning pages.
Transparency In Feedback
Feedback is essential for a student's performance improvement. To begin, teachers can easily share feedback through the LMS portal. It is accessible to both students and parents, allowing parents to monitor their children's progress.
Second, all feedback can be saved for future reference by teachers. They can assess their student's performance and determine whether or not they are progressing with the results.
Easily Transitions To Remote Learning
Learning can take place in a variety of settings, thanks to LMS. You can even arrange for a child's education to take place at their respective homes, making education accessible to all. During the Coronavirus era, when social distancing has become the norm, creating digital spaces at home can be an excellent way for students to continue their education.
Student Data Tracking
Student assessment and attendance data can be maintained in the LMS and used to advance the learning process. Students who require additional assistance across disciplines can also be identified simply. Also, in more than one subject, students who are talented might be recognized.
Communicates Multiple Ways
Schools can use the Learning Management System to set up various access points and groups to communicate learning. Class pages, homerooms, year-level pages, and house pages are all popular.
Conclusion
The best thing about a learning management system (LMS) is that it makes it simple to incorporate social learning into your e-Learning strategy. You can easily connect your LMS to pages and groups on Facebook, Twitter, and LinkedIn. You will be able to teach a large number of students. You can also market your e-Learning courses on social media sites to attract new students.
The key here is to find the best LMS solutions for your school so that you can reap the maximum benefits from them. Before purchasing the final one, research the various options available, shortlist those that meet your needs, and take advantage of the free trials.