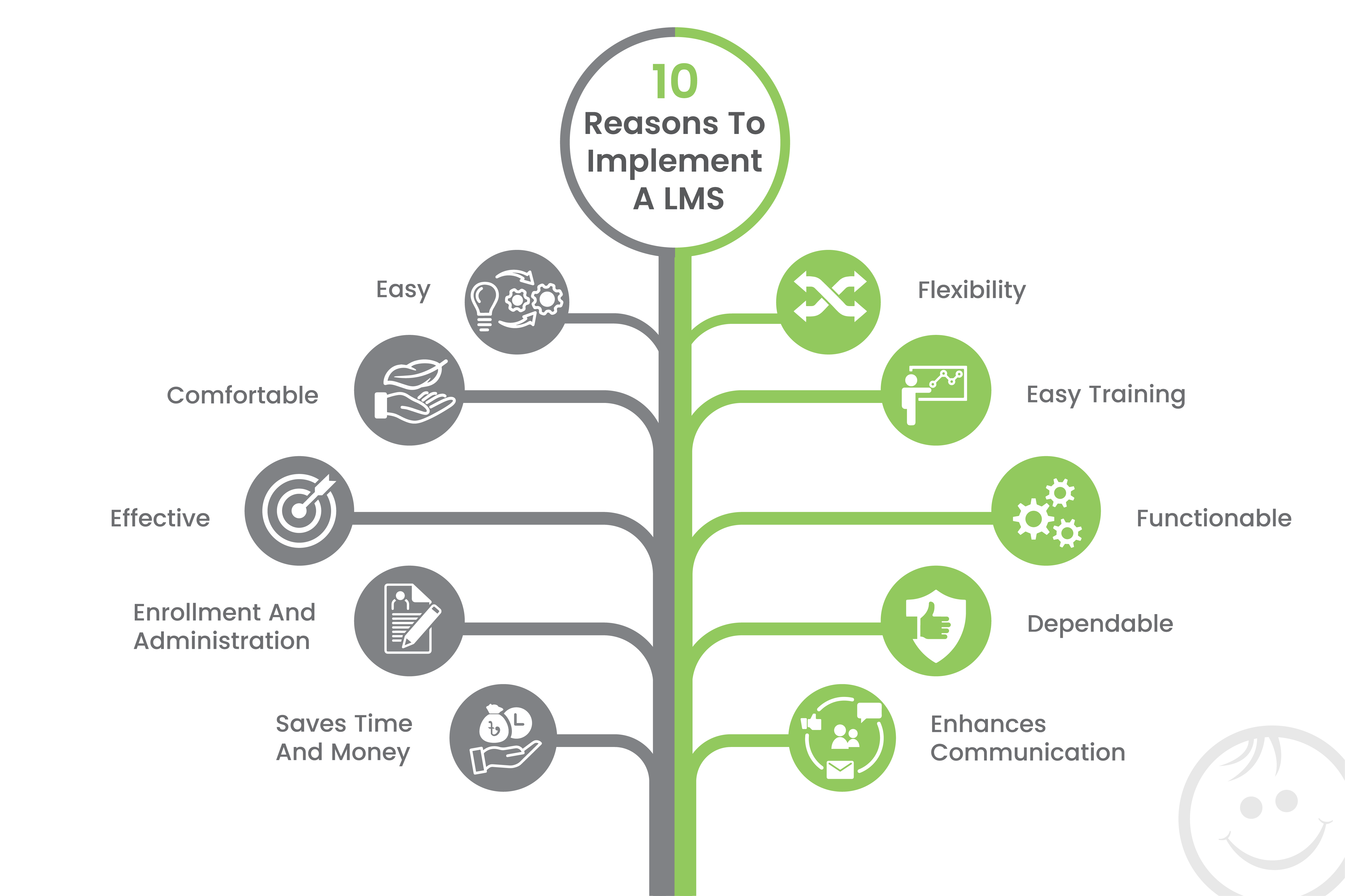 International secondary and higher education centers have been experiencing dramatic structural and functional changes in recent years. As a result, many institutions are implementing the LMS, Learning Management System, and they are more common every year. LMS is a piece of software that is easy to implement in your educational facility.
The LMS (Learning Management System) is an innovative tool that education centers shouldn't lack today. You can open doors to contact your learners worldwide to increase your reach by making the most of an LMS. A learning management system allows you to build and manage online courses with your expertise. Within your LMS website, you can even create an online learning community. The community includes online discussions, surveys, connections, and knowledge sharing between your students and colleagues. It's your community of social learning. In this post, we look at 10 Reasons To implement an LMS in your educational center.
10 Reasons To Implement An LMS In Your Educational Centre
You may want to implement an LMS in your educational center for many reasons. Let's examine some of the reasons for this.
Implementing An LMS Is Easy
LMS is an easy-to-implement software in your education center. It joins all academic curricula, topic guides, and training under one platform, which can be easily carried out through technical support from LMS providers and developers.
Flexibility
You can access the LMS anywhere from any device, whether a computer, smartphone, or tablet with an internet connection. So, for example, if a teacher must teach a revision class, they can link to all students in a virtual classroom. Or they can access the course contents and activities anywhere, while they're on vacation or travel.
LMS is comfortable
Educational platforms enable full individualized access, as does support obtained in a classroom atmosphere, to all members of your community. It is easy for all users to locate the communication tools they need on these extensive virtual campuses, for example, for the presentation or mapping of resources internally or from the web. Honesty is guaranteed.
Training Isn't Needed
This is a structured technology that aims to improve and enjoy the life of the user's thanks to their ease of use. Children and teachers can easily use this tool without any instruction or guide. LMS is simple to learn how to use, including new features or tools you haven't used before.
Maximum Effectiveness
These platforms benefit more than just the administrators. Teachers and students can make the most of the online learning process with an LMS due to the simplicity and efficiency provided in all operations. In addition, personalization options are limitless and can be tailored to the needs of any educational institution.
Must-have functions
The LMS is used by students and professors and is also used for numerous reasons by administrators. The LMS is used to integrate with other schools and institutions within the estate to maximize the benefits of K-12 educational institutes.
Enrollment And Administration Of The Classroom And Virtual Classroom
An LMS supports classroom registration, both traditional and virtual. Just select your event, assign an instructor, and students can easily register. Assign multiple courses to different instructors. The LMS handles all management and permissions.
LMS Are Dependable
Educational platforms provide complete personalized access to all community members, similar to the support provided in a classroom setting. In addition, all users can easily find the communication tools they require, such as those for making presentations or resource mapping, in these comprehensive virtual campuses, whether they are available internally or via the internet.
Implementing an LMS can save you time and money
Using an LMS to avoid data and information loss and make it available in one location for all users, all information in the same place is a strong case. Education platforms enable the complete control of all instruction, time, and money. Education centers can double classes with the same teachers and use it repeatedly to take advantage of most of each SCORM compatible online course.
Enhance Communication
A learning management system is a permanently open communication channel and enables all platform users to work together. Its multi-language portfolio and individual user identifications also allow you to offer different content types to different types of learners.
Conclusion
LMS is not just a website for learning but also an authentic experience for learning. An LMS allows you, from micro, video, and valuations to virtual classes, to provide courses and learning sources in a wide range of formats. It most definitely facilitates your life and your learning. This article will contribute to making your final decision if you're still uncertain about an LMS. To implement an LMS in your educational center, you will get 10 reasons here. You and your decision-makers are helped to understand the value.